...TootsUncommon recommended to me....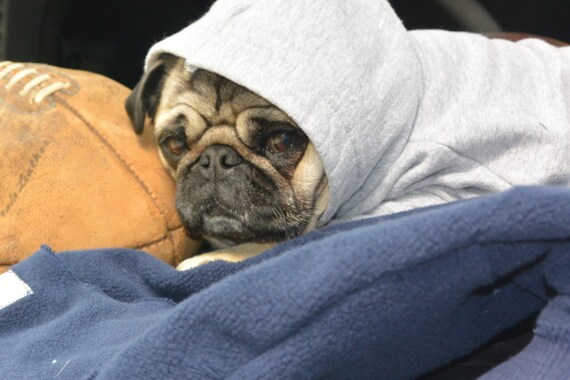 Twelve Lil' Pug Playin' Hoods!

Eleven Little Black Puplums!
Ten Tut the Turtles!
Nine Wrapamacallits!
Eight Collares y Leashes!
Seven L. Pawncho Camarillos!
Six Shiny MAC Raincoats!
Five Tut The Tanks!
Four FireCrackers a Jinglin',
Three Teacup Chalecos...

Two Talk Dirty to me Towels,

and a Woofler to wrap around my little buddy's neck!
"Once upon a time there was a dear little fawn pug who was loved by every human who looked at her, but most of all by her hu"mom", and there was nothing that the hu"mom" would not have given to her sweet fawn pug. Once she gave her a little playin' hood of repurposed cotton , which suited the pug so well that she would never wear anything else; so she was always called 'Little Pug Playin' Hood.' Bring your little one along on a Brothers Grimm Tale as your pup is sure to enjoy the warm embrace of the Little Pug Playin' Hood on a cool fall day! Get them while it's hot, cause this Pug in the Hood won't last for long!! Available in sizes x-small to x-large. As these fine items are made from repurposed sweatshirts, colors will vary. Let us know your pup's measurement from collar to base of tail and we will set you up with a Little Pug Playin' Hood."
And we are happy to do the wrapping for you too!