According to the Spring weather predictions from Farmer's Almanac (http://www.almanac.com/weather/longrange)
6 of the 16 regions will have warmer and rainier weather through May and two will have normal precipitation and temperatures; with the remaining regions having warmer and drier weather through the month of May.... Tootsie Roll calculates that 36% of the country will be experiencing warmer, rainier weather in the upcoming month.... Hmmm....it looks like these 6 regions need the right tool for the job! Right?! And just what might that be? Tootsie Roll is glad you asked! To enjoy warm walks in the rain every hu"man" and hu"mom" needs a MAC for their furry friend!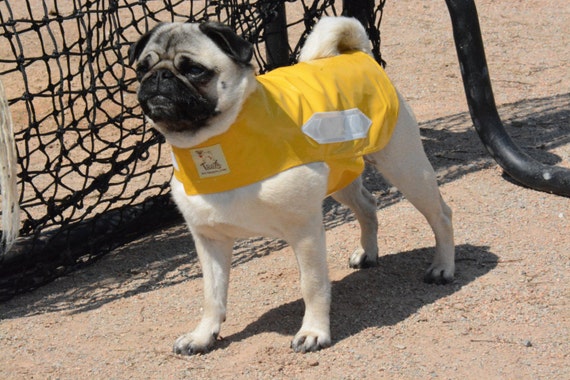 "Professor of clothing design Hairy Canine makes a bet that he can teach a half-breed Cocker Spaniel to design a jacket made with a waterproof fabric invented by Mr. Charles Macintosh in Glasgow in 1823. Not only does Hairy Canine loose the bet; but the half-breed Cocker Spaniel designs a raincoat smart enough to wear in the city. Her design achieves such popularity with the inventor of the waterproof fabric that today Mr Mackintosh's surname is often used as a generic term for any raincoat, although those by the Mackintosh label are the true originals. TootsUncommon has been given the proud distinction of carrying on the Mackintosh label for canines which has "Pugmalion" falling in love with rubberized cloth and Lucille Dolabrador singing, "The Rain in Spain Stays Mainly on the Plain"! Purchase a MAC from TootsUncommon and you and your canine will undoubtedly love just walkin' and singin' in the rain!! " Available in the same sizes as our Wrapamacallit and of course, every online purchase come with a free Tug-A-Pug toy!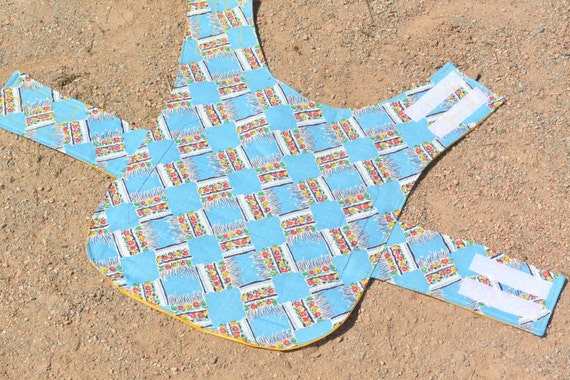 Lined with repurposed feed sacks!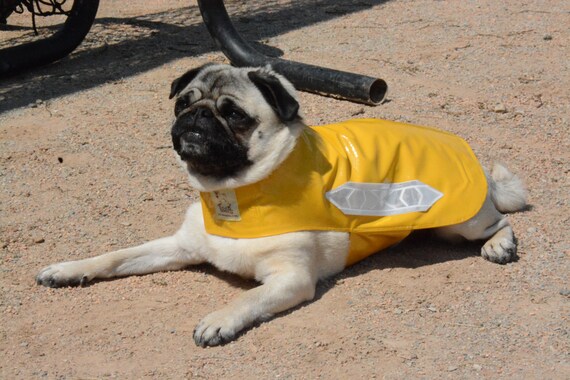 A reflective strip for early morning or late night walks in the rain!