The word "hybrid," when referring to genetics means, "the offspring of genetically dissimilar parents or stock, especially the offspring produced by breeding plants or animals of different varieties, species, or races." In general, the word means, "something of mixed origin or composition." Hybrid dogs, or designer dogs as some call them, are becoming quite popular. Below is a list of the most popular hybrid dogs. The best way to determine the traits of a mixed breed is to look up all breeds in the cross and know you can get any combination of any of the characteristics found in all breeds. The Dog Breed Info Center® does not attempt to interpret the temperaments of each individual hybrid mix because the differences in the dogs, even within the same litter, can vary greatly. If you do not feel the temperament of one of the purebreds in the mix is suited for your lifestyle, then that hybrid dog is not for you. Do not take a gamble that the puppy or dog will turn out like the other breed in the mix. Choosing a dog simply for its looks is a foolish way to choose a dog. Read the article on Designer Dogs for more info on these mixed breeds.
Please Note: A hybrid dog is not a BREED; it is a hybrid, which means it is a mix of more than one purebred dog.
Scientifically speaking, the term "hybrid" is incorrect as all dogs are a sub-species of wolf (Canis lupus familiaris) and as such, it is impossible to have a hybrid as they are two of the same species. Although technically incorrect, the term "hybrid" is the name which is predominantly used for these mixes and therefore it is the name we will also use when referring to them.
Designer dog?? What the heck is a designer dog, you ask?? A "designer" dog (as the media has labeled them) is a cross between two purebred dogs. A purebred dog is one that has been bred over many generations to breed true, meaning each puppy that is born looks and has the same temperament and characteristics as the others. In most cases a standard is written and breeders must follow this written standard. Only dogs that make the written standard are to be bred. Purebred dogs are beneficial in that when you buy a purebred dog you know what you are getting. You know how big your puppy will grow and you know basically what type of care the dog will need. You know the dog's limits, whether it is capable of agility, hunting, search and rescue, police work, herding, flock guarding, or just simply being a companion dog. You have a pretty good idea how much exercise the dog will require. When one breeds purebred dogs great care must be taken to ensure the lines do not become too thin. Even with all the best DNA testing available genetic problems can occur, however with the proper testing these problems can be greatly reduced. To give you a simple analogy, let's say there was a law passed that stated only people with red hair and green eyes with a high IQ could have children, with the end goal being everyone in the USA to be smart with red hair and green eyes. If this were to happen, as you can imagine, our gene pool would eventually become thin, and many genetic problems would occur. This is why it is very important to ask breeders of purebred dogs what types of genetic testing they perform.(
http://www.dogbreedinfo.com/designerdogs.htm
)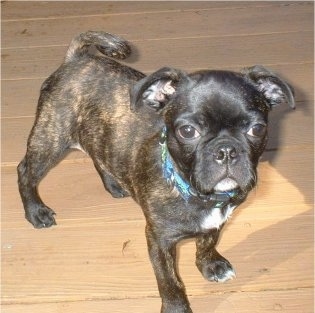 2014 - One of the Best Hybrids, Harley the Buggs (Boston Terrier/ Pug Mix)
Okay, so this part could go on for days...so we will just list a few "L" for "Lab" and "P" for "Pug" hybrids we found. Can you guess what the mix is?
GEEZE LOUISE! Well, if you dare, check back tomorrow and see if there are "Designer Dats" to be found...Yes, we meant Cats!!